Wedding Dress Alterations and Re-styling
Minor, major wedding dress alterations or re-styling, you can be confident with our attention to detail.
Every torso and frame is different and we offer a quality professional service that will transform your dress.
Our first consultation is free, and you must bring your chosen underwear and shoes to this appointment.
Altered gowns can be turned into masterpieces!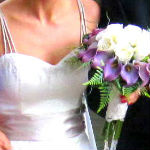 Prices
Wedding dress alterations vary in cost as each wedding gown style is different.
Wedding Dress Hems with one layer of lining (plain) start from $80 + GST
For an accurate quote call and make an appointment.