Choosing the right wedding dress can sometimes be difficult, there are just so many things to consider.  Here are some of the most important things to consider.
Tip 1 : Color
It was the middle of the 19th century when Queen Victoria and Albert got married and this really defined the classic white wedding dress.
This was a time when fabrics were developed introducing lace and dressmakers became designers.   There were great changes in Paris as well with couture houses opening.
In those days wedding dresses were often altered to be worn afterwards.  Queen Victoria was seen 50 years after her wedding in her dress at her Jubilee.  The white lace skirt from her wedding dress was worn over a black silk skirt.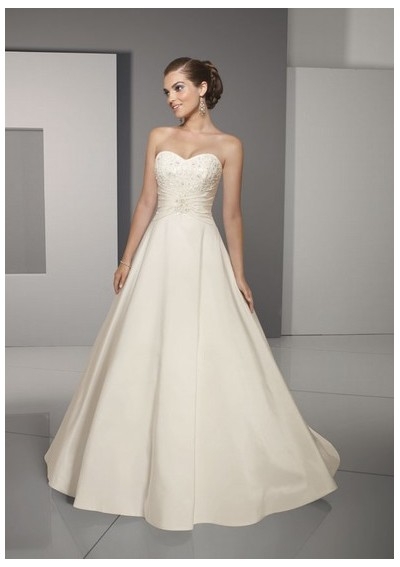 Tip 2: Bodice / necklines
Bodices can change in length and neckline.  It is important to remember you might really love a neckline on someone else, however, what is it you feel really comfortable in?  Is it strapless? If you like strapless and wear a lot of strapless tops, then go for it.
If you have never worn strapless before, and, kind of like the idea of it, then go and buy a strapless top and wear it for a while.  Although it won't be the same fit as a strapless bodice, you might buy or have made for your wedding, it will give you a good idea of how comfortable you are about wearing it.
If you spend all night hitching it up, then forget it.  You will do the same with your wedding dress.  This usually comes from a sense of fear, rather than it actually is going to fall down.
Remember with strapless the bodice does cut straight across the body and goes under the arm.  It is best to avoid this style if you are very flat chest or heavier chested.
Tip 3: Skirt
Skirts can change from Aline, straight, boxed pleats or you could go for the big puffy meringue.   They are all just as stunning as the other it just depends on the look you are going for.
Boxed pleats and the big puffy meringue are more traditional but more and more we are seeing Aline and straight for the girls that really want to show off their figure.
By now you might be thinking skirt, bodice, aren't they usually joined?  Well the answer is yes but the skirt and bodice are separate pieces before they become one final dress.
Tip 4: Train or straight
Trains are very traditional and lovely.  Some people believe you are not a bride unless you have a train.  Now if you are like me and about to marry someone that really had no idea about the fact that you shouldn't stand on brides train, or who is just that little bit clumsy and you are worried about it then don't do it to yourself.    The other option is to have a long veil (as the train) but we will cover that next.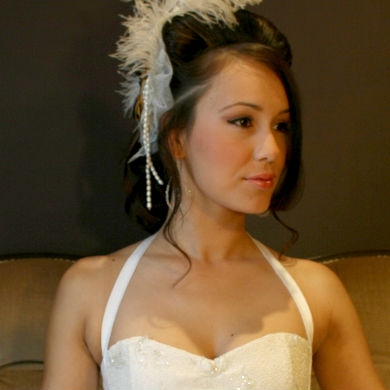 Tip 5: Veil
It is believed that Veils originated in the Middle East and the crusaders brought this back to the Roman brides.  Representing the giver of life and the roman goddess of Vesta, the Roman brides would dye there veils gold using saffron.
In the Middle East, the veil use to be a lot heavier and it is believed the brides wore these veils during arranged marriages, in case the groom wanted to back out when he saw the brides face. This way once married, the groom was allowed to remove the veil finally seeing the face of his bride for the first time.  It was too late...
I believe in the more religious Jewish families, the groom actually veils the bride.  It is said that The Matriarch Rebecca covered her face with a handkerchief when she met her groom Isaac, however, it has also been suggested, the groom is checking whether it is his bride.
Most importantly, for you and your choice in wedding gowns remember to understand your limitations.  There are many possible external factors that may affect your choice for example:
·    Religion/ religious beliefs,
·    Family traditions,
·    Are you getting married on a Californian beach where sand might be a problem,
·    Does your man ride a motor bike to the wedding and will your train fit on it for the photos?
·    And you get what I mean, as ever person is unique, each wedding will have different external factors that may have to be considered when choosing the right wedding dress
Happy planning and importantly, enjoy planning your wedding!
Mich x