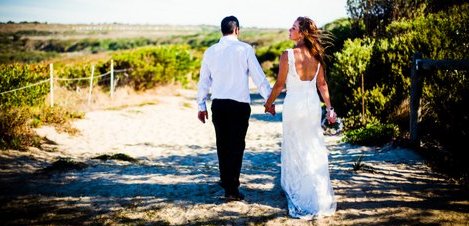 We offer Couture wedding gowns and wedding gown alterations or re-styling.  If you choose to design your own dress with the help of one of our designers, we will make sure your couture gown is still an affordable wedding dress.
Understanding our clients budget, and offering silks & laces available in your price range is why our clients are most satisfied.  Each gown is a unique wedding gown designed to suit your style and elegance.
White Elegance is located in Sydney with a studio in Sydney's Inner West.  We can also visit you in your home, this is on request only and conditions apply.
---

We are strongly committed to creating an innovative and beautiful Couture wedding gown of your dreams. With our experience and fine eye to detail, we are positive you are going to love the gown we create for you.  Create a custom wedding dress of your dreams.

Minor wedding dress alterations or wedding dress re-styling you can be confident with our attention to detail; your dress will fit you like a glove.   Believe it or not altered gowns can be turned into masterpieces!

We are serious about sewing but also want to have a lot of fun along the way!  If you want to learn to sew or brush up on your skills then this is for you.

For affordable wedding gowns please contact us.
You can email or phone to make an appointment and meet the designer.
Other Alterations

Clothing alterations and modifications. 
---
Contact Us / Phone Us
The Studio

+61 8091 1664

Michelle Marie Mitchell

+61 415 250 065